Family of Nathan Newmark makes leadership gift for CEE Showcase display
Family of Nathan Newmark makes leadership gift for CEE Showcase display
Nathan Newmark's family members have made leadership gifts to establish an installation showcasing the contributions of Illinois civil and environmental engineers to the world. The gifts came from Richard and Joan Newmark, Nathan Newmark's son and daughter-in-law; and Susan Newmark Mayfield, Nathan Newmark's daughter.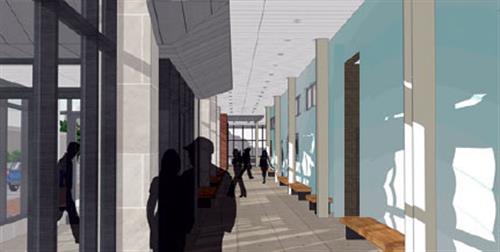 The work will touch on the department's historical contributions and include special emphasis on the Nathan Newmark years and their profound and abiding influence. Present-day innovations and the potential of civil and environmental engineers to shape society in the future will also be illuminated.
The installation will be located prominently in the first floor, main hallway of the new addition to the Hydrosystems Laboratory. Additional gifts will be required to fully fund the display.
"The gift is in memory of my father," Richard said.
He hopes the installation will "encourage present students and visitors to recognize the rich history of civil engineering at Illinois and the very important contributions of civil engineers to new structures and bridges worldwide."
Newmark sees particular value in the Kavita and Lalit Bahl Smart Bridge, which will be instrumented to demonstrate the effects of various strains on the structure.
"It is critical that civil engineers develop techniques to monitor structures and learn to predict failures before they occur," he said. "The new Smart Bridge from Newmark Laboratory to the new building will be a learning opportunity.
"Many bridges in the country are past their useful life and means to predict failures are going to become very important. Examples include the tragic failures and loss of life of the interstate 35W bridge in Minneapolis – just 15 miles from my house – 11 years ago and the more recent failures of bridges in Genoa and Miami."
The department hopes to achieve enough total funding to commission a museum-quality installation that will feature the contributions of a number of CEE faculty and alumni, communicating to viewers the civil and environmental engineering contributions of Illinois faculty and alumni, as well as the immense potential of civil and environmental engineers to improve life for all people.